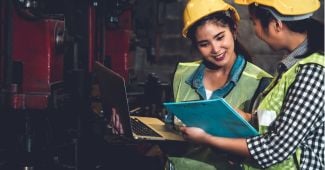 The manufacturing industry continues to be a place where innovation thrives. If your company wants to be innovative and meet the ever-changing needs of your customers, you have to attract (and retain) the best and brightest employees.
Manufacturing is becoming more and more high-tech and automated. This means you need hard workers who have experience with these technologies, can pick up new skills quickly, and have all of the soft skills necessary in today's workplaces.
If you're looking for new employees at your manufacturing facility, we can help you find them! Use the advice we're providing in this article, and don't forget to reach out to Liberty Staffing when you're ready to start recruiting top manufacturing employees!
The Top Skills Needed by Manufacturing Companies
What are the top skills you need your manufacturing employees to have?
We wrote about this a couple of years ago, and the list still applies. Check out the blog post for more information about these important manufacturing skills.
When looking for new people to join your team, you should be looking for:
- Experience in the manufacturing industry
- Coding & programming experience
- An interest in robotics
- Critical thinking skills
- Worker reliability
- Welding skills
- Leadership ability
- Soft skills
When you go into the hiring process already knowing what you're looking for, you can create better job descriptions, have a more intentional interview process, and find better candidates for all of your open positions.
Let's take a look at some of the best ways to recruit top talent in manufacturing to your business!
Create Great Job Descriptions
The first step to finding the right candidates is making sure that you're describing the positions correctly.
If you find that you're constantly getting the wrong kind of applicants for your open positions, then it is time to take a serious look at those job descriptions. Do you have the appropriate responsibilities listed? Skill level? Educational background?
Are your job descriptions clear, concise, and appropriately detailed? Top-tier talent isn't going to waste their time applying for positions that are described poorly or lack a lot of information. When there is a lot of competition for available workers, you have to ensure there are no barriers to their application process.
Also, don't forget to make sure that your job listings are posted in places where people are actually looking for work.
Focus on Your Branding and Tell Your Company Story
This important step is something you should be working on all the time – not just when it's time to find new team members.
Many of today's top manufacturing employees want to work for a company that shares their values, which brings up a great question: how do they know what your values are?
Excellent company branding goes beyond just selling your product. It is also about communicating to the public that you are a great company for which to work. The more you can do to support your community, get involved with important causes, sponsor meaningful events, and tell your story on social media, the more you will be able to find great candidates.
Make It Easy to Apply
Do you have an outdated, overwhelming, or frustrating application process? For example, we often hear applicants complain about having to re-enter the same information over and over in an application process and then turn in a resume or CV that says all the same things!
Even though we understand how that information is rerouted for different purposes, job seekers don't. If you want to attract the best applicants, don't send them running away from your application process because it is frustrating or too time-consuming.
Provide Educational and Professional Development Opportunities
Great candidates are always looking for their next opportunity. Show them that you're going to help them achieve their potential!
Providing your employees with educational and professional development opportunities will be a great selling point for your company. High-achieving job seekers will be interested in things like on-the-job training, tuition reimbursement programs, and opportunities to go to workshops and trade conferences.
Some of these things will be line items in your benefits package, but others will be exciting perks that you can tell an applicant about during the interview process.
Be Competitive in Your Compensation and Benefits Package
In today's competitive marketplace, manufacturers need to provide great compensation and benefits to attract employees. If you want those top-tier employees, you are going to have to go above and beyond what others in your area are offering.
We're not talking about needing to be far above what everyone else is paying, but you do need to make your overall compensation and benefits package stand out. When those high-quality candidates are looking at two or more positions, and everything else is equal, the decision is almost always going to come down to salary and benefits.
Don't lose out on these great applicants because you are offering too little. That gets more expensive in the long run because you end up spending more on hiring employees who don't stick around and just are not as good at their jobs.
Embrace Workplace Flexibility
You may be wondering how a manufacturer can embrace workplace flexibility. It's not like people can operate heavy machinery and manufacture products from home.
Sometimes, workplace flexibility gets mixed up with remote work. Although there may be some people in your facility who can work remotely some of the time (including your sales team, administrative assistants, and even some executive-level employees), there are many more who need to be on-site.
You can still offer these employees the flexibility they are looking for by using strategies like flexible schedules, 4 day workweeks, extra time off in the summer, and more.
Get to Know Prospective Permanent Employees by Hiring Temporary Workers
Temporary workers are a great staffing solution for any manufacturing company because you can quickly scale up and meet your staffing needs. However, it's not just a strategy to use when you need employees fast.
You can also hire temporary employees in order to get to know them and find out if they would be a good fit for longer-term employment. Some of the best permanent employees at manufacturing facilities started out as temporary employees.
When You Need the Top Manufacturing Employees, Liberty Staffing Knows How to Find Them
With more than 20 years of specializing in staffing for the manufacturing industry, Liberty Staffing has unmatched expertise in connecting companies like yours with the skilled workers you need to grow and thrive.
Contact Liberty Staffing today to leverage our extensive network and recruiting capabilities to build an exceptional workforce for your Southern Ontario manufacturing facility.