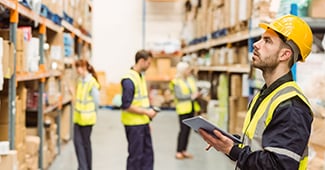 Running a warehouse in a recession looks different from running a warehouse when the national economy is booming. Canada just entered a recession in 2022, and there is a lot for warehouse managers to adjust to in the coming days.
When you are responsible for staffing a warehouse during a recession, you have to think strategically about how to keep everything running smoothly.
Liberty Staffing can help! Reach out to us today to learn more about how we keep Southern Ontario's businesses fully staffed, even in difficult times.
In the meantime, try these ideas to keep your warehouse staffing situation in great shape.
Increase Your Use of Automation
Increasing your use of automation can reduce your overall labour dependency. This isn't about replacing existing employees, but it's about working efficiently with a reduced labour force.
The recession is going to affect labour in the warehouse industry, although it's hard to predict what, exactly, is going to change. The recession could cause an increase in unemployment rates, and you'll see more applications to work in your warehouse.
Or, we could continue to see the numbers of good applicants decrease, and open positions could go unfilled.
Automation in the warehouse ensures that regardless of what happens, you aren't overly dependent upon constantly bringing in new team members to your warehouse. Your current employees will be able to do their jobs more efficiently and effectively, thanks to intuitive technologies and automated processes.
Take Advantage of Your Space
When things are going well, it's natural to want to expand. However, that can be a risky decision during a recession.
Consider optimizing your current space instead of moving to a new facility. In fact, with some effort, you may even be able to rent out some of your space if you end up needing to increase revenue.
A well-organized warehouse is also a more efficient warehouse. Your warehouse staff will be far more successful if they have a well-organized and streamlined facility to work in.
Some ways to do this are to increase your use of vertical storage, identify areas where you have wasted space, safely reduce the amount of space between aisles, remove any obsolete inventory, or even install a mezzanine for additional storage.
Focus on Retention
Often, when people try to solve staffing problems, the first thing they think about is bringing on new employees.
That may be the wrong focus. Even though hiring new employees is an important part of a warehouse staffing strategy, that doesn't mean you should ignore the people you currently have on board.
When your employees are satisfied with their jobs, well paid, and happy with their day-to-day experience in the workplace, they are far more likely to stick around. And that means you get to save on recruiting, onboarding, and training costs.
Check out our recent blog post for several ideas about how to improve retention in your warehouse.
Utilize Temporary Workers
Temporary workers are an incredible resource for today's warehouses!
There are countless reasons to depend on temporary employees as part of your overall staffing agency, but let's take a look at some of the big ones.
First of all, temporary workers allow you to quickly scale up and scale down when your staffing needs change. You can fill positions quickly without committing long-term to employees you don't even know yet. Having an end date set in advance means that you can scale back down when you need to, without dealing with unpleasant layoffs.
Next, temporary workers can alleviate the stress that your current employees are feeling. When a warehouse is understaffed, your employees can carry the brunt of the burden. You can hire temporary workers to come in quickly and fill open positions, thus reducing the pressure your team is under.
Additionally, temporary workers reduce the costs associated with overtime. You won't need to ask your current team to take overtime shifts because you will have plenty of people to do the work.
Liberty Staffing Can Help You Find Great Temporary Workers & More
Want to find good temporary workers? Or permanent ones? Working with a staffing agency is one of the best ways to make sure that your warehouse is fully staffed, no matter what is going on in the national economy.
Liberty Staffing has been working with Southern Ontario's warehousing companies for more than 20 years! We are always happy to build a partnership with businesses we haven't worked with before, including yours.
Contact us today to find out more about how we can help you prepare for the recession and its impacts on the warehousing industry.