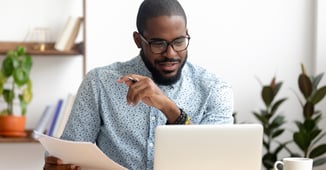 2020 and 2021 have been challenging years due to COVID. A lot has changed, particularly in the working world. Unfortunately many people in Ontario lost their jobs due to COVID lockdowns and restrictions. Those who were fortunate enough to keep their job during the pandemic were either transferred to work remotely, or to work in the office under high health and safety regulations.
Presently, we are still in the middle of the COVID-19 pandemic. If you've been thinking about making a career change at this time, you're not alone. Many professionals are considering a career change right now. Some professionals have felt that their career has become too stressful and overwhelming due to the pandemic. Some are afraid to work in-house due to health and safety concerns. Working remotely has allowed many professionals to develop new skills, and explore further education in a field unrelated to their current job. Those with COVID-related jobs may be concerned about availability of their job post-pandemic.
Now might be the best time to start a new career. At Liberty Staffing, we'd like to give you some advice for making a career change during a pandemic.
Use Time Off to Learn New Things and Develop New Skills
If you've been recently laid off, use this free time to your advantage. Better yourself to market yourself as more employable. Learn new things, and develop new skills that you can put on your resume.
Now is the time to enroll in those classes you've always been talking about. Start a school program, or take a free course online. Any education is beneficial and can be put on your resume.
Are you passionate about a specific subject or skill? Work on it! This will help you improve and develop your skill set.
Future employers will be happy to see that you've bounced back from being laid off, and that you're using your time wisely and effectively. Not only that, but learning new things and developing new skills makes you a well-rounded professional.
Connect and Network With Others
Networking in-person may not happen much these days, but there are so many opportunities to connect with new people online. Virtual events and online platforms provide you with plenty of ways to connect with professionals in the field you'd like to get into.
Think about online networking events like job fairs and conferences, etc. Chances are that big name professionals will be virtually attending these events. You'll be able to gather valuable insight, as well as network with like-minded professionals.
Build a professional profile on social media platforms like LinkedIn and Twitter, etc. Add and follow people that are in the field that you're interested in. Take a moment to introduce yourself to others online.
Online networking can be a great way to get your foot in the door!
Don't Let Yourself be Limited by Geography
In previous years, an ideal employee was someone local. Remote employment was not even thought of as a possibility. COVID has proved that remote work is possible for some positions. Now, many employers are okay with hiring remote employees.
Even if employers are not specifically seeking remote employees, they are open to the idea of hiring workers who live outside of their local geographic location.
This means that you can look at applying to opportunities that are outside of your usual geographic area. The job opportunities available to you will be that much greater.
Looking for Work? We Can Help!
Liberty Staffing Services has been helping job seekers find employment for over 20 years! We can help you find a great new job during this difficult time.
If you're looking for a career change, contact us today. Liberty Staffing connects great people with great jobs!