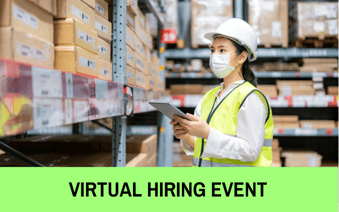 Liberty Staffing Services is an independent staffing agency with multiple branch locations throughout Ontario. Since 1999, we have been helping job seekers find work.
We're having a Virtual Hiring Event on Wednesday March 24, 2021. Join us remotely!
Spring forward with a new job! At this event, we will be recruiting for lots of great jobs throughout Ontario.
We're Hiring

- General labour, warehouse, and office jobs
- Full time positions
- Located in Brampton, Cambridge, Guelph, Kitchener/Waterloo, London, Stratford, Woodstock and surrounding areas
Join Us Remotely for Our Virtual Hiring Event
When:
Wednesday March 24, 2021
8am - 5pm

Where:
Remotely! We're conducting virtual/phone interviews (no in-person interviews to ensure everyone's safety during the COVID-19 pandemic).
Book Your Phone Interview Today!
Call your nearest Liberty Staffing branch location to schedule your interview appointment on Wednesday March 24!

Brampton: (905) 799-8586
Cambridge: (519) 624-2877
Guelph: (519) 823-9697
Kitchener: (519) 742-2011
London: (519) 453-9021
Stratford: (519) 275-2742
Woodstock: (519) 539-7961
Contact us if you have any questions about our event. We hope to meet you virtually!