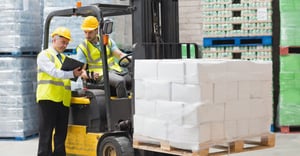 It's almost the holidays, and warehouses are getting ready for an increase in orders and shipments. It's one of the busiest times of year for most businesses.
To help with the workload at this time of year, you're probably thinking about expanding your team. You may be thinking about hiring more Order Pickers, and Packers. You also know you need to keep your own shelves stocked, and you'll have to move received shipments to the warehouse, and large orders and pallets to the loading dock.
You need to hire some more Forklift Operators to help this busy season progress smoothly. Whether you're hiring temporary staff, or are thinking about keeping people on for the long term, you want to hire the most reliable people for your team.
Download our whitepaper to see how we solve our clients' evolving staffing issues
At Liberty Staffing, we know how important it is to have the right people on your team. That's why we put together this guide, so you can be sure you're getting the best of the best when you hire Forklift Operators.
Search for Candidates in New Places
If you haven't been satisfied with the Forklift Operator applications you've been receiving, it could be time to broaden your search horizons. Think about putting your ad on a national job board, or one tailored to your industry.
You may even want to adopt a social media strategy. LinkedIn and Facebook can be useful tools, although you must know how to use them.
If you feel you've looked everywhere already, it's time to team up with Liberty Staffing. We can help you cast a wider net so you can find the people you need for your business.
Check for Training and Licenses
The next step to finding reliable Forklift Operators is to make sure the candidates you're interviewing have completed their training and have their licenses.
Licenses must be up to date, and not expired. Forklift Operators should also update their training from time to time.
You might consider someone who is currently enrolled in a program and very close to completing their license. Make sure to do your due diligence and ask about this person's work history, and school record. They may say they're reliable, but their records might prove otherwise.
Ask for References and Follow up
Ask any potential Forklift Operator to provide you with references. These people should be former managers/supervisors, who can speak to the candidate's work ethic.
You should follow up with these references, especially if you're thinking about interviewing someone, or are considering them for the job.
These references should be able to tell you about the candidate's history. Were they a good worker, who showed up on time for their shifts? Did they do an impeccable job?
You can usually ask about someone's work ethic, punctuality, and attendance without much trouble. References may not be willing to discuss specific incidences of poor behavior, but they will usually give honest recommendations on whether you should hire someone or not.
If a candidate won't provide references, or only provide the contacts of non-supervisors, you might want to steer clear.
Give Them a Test
Your Forklift Operators will need to have many skills, so screening candidates for their abilities is a solid plan. You can administer some tests.
A good test would be to have someone demonstrate their skills operating a forklift, but that's not always practical. You could ask them to complete a written test demonstrating knowledge of safety rules.
Math is another important skill for Forklift Operators, since they have to be able to calculate the size and weight of loads to determine what they can safely transport. A math test might be the best way to have someone demonstrate that they can quickly and accurately compute weights.
Finding the right people for your open Forklift Operator roles doesn't have to be difficult. Get in touch with Liberty Staffing Services today, and find quality Forklift Operators.