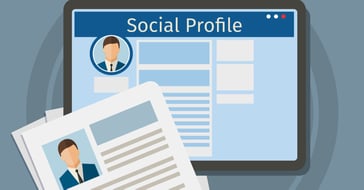 Social media isn't just for connecting with friends, sharing opinions, or watching videos. It's also something that has a lot of potential to help you take the next steps in finding a new career.
Are you looking for a new job? Let Liberty Staffing know what kind of position you're looking for, and we can help you find your dream job. Whether you're looking for temporary work or a permanent position, contact Liberty Staffing today to learn more about our services!
How can you use your social media to help you find a new job?
Find the Right Social Media Networks
Not all social media networks have been created for job searching purposes.
If you want to use social media to find a new job, you will need to make sure that you're on the right platform. Sites like Twitter and Facebook Jobs can help you learn about job opportunities in your area.
LinkedIn is a social media site that's all about professional advancement.
Creating a LinkedIn account allows you to share your resume and credentials with potential employers and recruiters alike.
Think About What You Want to Be Publicly Available
It's almost cliché to remind people that "what you put on the internet is there forever," but sometimes it's beneficial to be reminded. If you are currently job searching, you might want to go through your social media accounts, clean them up, and take a look at your privacy settings.
Do you have things locked down so that people can't see anything embarrassing, revealing, or that might make you look like a problem hire?
Taking a few minutes to think about what you want to be publicly viewable can make a big difference in your job search. Don't get yourself crossed off a list of new hires just because of what you have put online.
Network, Network, Network
An undeniably powerful force during a job hunt is networking. Social media is a goldmine for networking opportunities. There's a reason these are called "social" media networks. They allow individuals to interact, connect, stay in touch, and share important information.
Some of that information may include professional opportunities!
Use Social Media to Learn About Your Potential Employer's Reputation
Are you trying to figure out if an employer is the right fit for you? Check out the company's social media presence to learn more about their attitude, reputation, and if their values match your own.
You can look at their attitude toward customers online. Are they respectful and engaging? Friendly and thoughtful? Or are they snarky, dismissive, or rude? These are things that can give you insight into what it's like to work there.
Social Media Can Help or Hurt - How Will You Make Sure It Helps You?
The power of social media is dependent on the way that it is used.
If you use social media to build professional networks, nurture relationships, seek out job advertisements, and communicate with potential employers, then you are going to reap all of its benefits.
If, however, you are careless about your social media habits, or if you don't really put much thought into how you use these networks, then you may end up dealing with the frustrating reality of being disadvantaged by your online profile.
Liberty Staffing Helps Workers Like You Find New Jobs
Are you happy with your current job? Are you unemployed or underemployed? Do you want to find a job that you enjoy?
Staffing agencies connect workers with employers. We know how to make your resume stand out from the rest, and we can help you form connections you wouldn't otherwise have been able to make on your own. Let's talk about how we can help you take the next step in your career!
Contact Liberty Staffing today to find out more about how we can help!