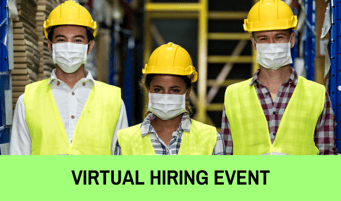 Are you looking for a new job? Whether you're looking to make a career change, or if you've recently been laid off due to COVID, Liberty Staffing Services can help you find a great new job opportunity.
We're having a Virtual Hiring Event tomorrow! Join us remotely.
Liberty Staffing is currently hiring for multiple full time general labour, warehouse, and office jobs in Brampton, Cambridge, Guelph, Kitchener/Waterloo, London, Stratford, and Woodstock. You could gain a great job on the spot!
Join Us Remotely for Our Virtual Hiring Event
When:
Wednesday March 24, 2021
8am - 5pm

Where:
Remotely! We're conducting virtual/phone interviews (no in-person interviews to ensure everyone's safety during the COVID-19 pandemic).
Book Your Phone Interview Today!
Call your nearest Liberty Staffing branch location to schedule your interview appointment on Wednesday March 24!
Brampton: (905) 799-8586
Cambridge: (519) 624-2877
Guelph: (519) 823-9697
Kitchener: (519) 742-2011
London: (519) 453-9021
Stratford: (519) 275-2742
Woodstock: (519) 539-7961
Already Registered? Refer Others
Are you already registered/an employee of Liberty Staffing? That's great! You can refer a friend or family member (legally able to work in Ontario) to register with us. If you're referred friend works a minimum of 200 hours with us, you could gain $100 for your referral.