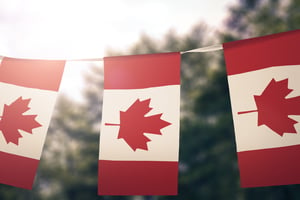 Yesterday was Canada Day. The Canadian staffing industry is still going strong.
Liberty Staffing is a proudly Canadian staffing agency. Our company was first established in 1999. Temporary, temporary to permanent staffing, and permanent hiring is what we offer to warehouse, industrial, and office businesses throughout Ontario. We started with one branch location in Cambridge, and now have eleven branches to date. Our branch locations include: Arthur, Brampton, Cambridge, Guelph, Kitchener, London, Mississauga, St. Catharines, Stratford, Waterloo, and Woodstock.
Partnering with a staffing agency to help fill your open positions will save you time and money. We take care of recruitment functions, like screening candidates, interviewing, job-specific testing, and other legislated employer responsibilities.
The other side of our business includes helping people find work. If you area job seeker in Ontario, we can help you find meaningful employment. There are many common misconceptions about staffing agencies. At Liberty Staffing, we take the time to get to know you and your requirements, to ensure that we find the right position for you. Our main goal is to make both our clients and employees happy.
Please be advised that all Liberty Staffing branches are closed today (Monday, July 2) in recognition of Canada Day. We will reopen for business on Tuesday, July 3 at 8am. If you need assistance during this time, please contact us and leave us a message at a Liberty Staffing location nearest you. We will get back to you as soon as we can.
We hope you have a great Canada Day long weekend!