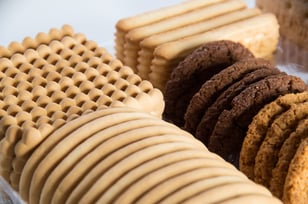 Are you looking for a great job in Guelph, Ontario? Liberty Staffing is currently hiring Cookie Packagers on behalf of our client!
Liberty Staffing Services is an independent staffing agency with multiple branch locations across Ontario. We connect great people with great jobs! There is no fee to use our services as a job seeker.
Students are welcome to apply! Here's more information about this great job opportunity.
Shifts Available:
Day or midnight
Starting Wage:
$17.23/hour
Job Duties Include:
- Place proper quantities of product in each box; check code dates, prices, fold and tape box
- Stack correct number of boxes appropriately on skids using correct stacking pattern
- Required to rotate through the various packaging workstations on all packaging lines
- Alternate duties such as sweeping, light equipment cleaning will be assigned as required
- Maintain a high level of sanitation in work area
- Must be able to follow written and verbal communication
- Requires good hand-eye coordination
- Perform all other duties as assigned
- Hand package bulk cases of wafer cookies
Apply Today!
If you are interested in this position, apply to Liberty Staffing today! Call or email us to apply to this great job opportunity.
Call: (519) 823-9697
Email: libertyguelph@gmail.com