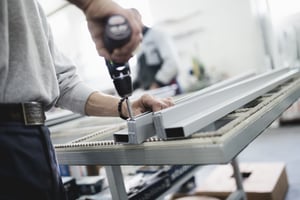 Do you enjoy building things? Are you good with your hands? If so, an assembly position might just be the perfect job for you!
Assembly work can be very rewarding. After all, it's great to visually see how many items you have assembled throughout the work day.
Liberty Staffing Services offers temporary and permanent assembly positions throughout Ontario. Many consider assembly work a great career choice.

If you're looking for assembly work, apply with a staffing agency like Liberty Staffing Services. Here's why you should apply with us.
Jobs in Your Area
Liberty Staffing has 10 branch locations across Ontario (specifically Arthur, Brampton, Cambridge, Guelph, London, Mississauga, St. Catharines, Stratford, and Woodstock). If you are looking for assembly work in any of these geographical areas, we've got you covered. We can help you find a great assembly job in your area. Your first step would be to apply with us.
Temporary and Permanent Positions
Are you interested in one day assignments, or perhaps ongoing weekly work? Liberty Staffing offers assembly jobs on a temporary basis.
Not interested in temp work? That's okay! Liberty Staffing Services also offers temp-to-perm, and permanent positions. We will work with your needs and requirements to find the perfect assembly position for you.
Access to Multiple Opportunities
Instead of applying to job opportunity after job opportunity, simply apply to a staffing agency. By applying to an agency, you will gain access to multiple assembly opportunities on the spot. All that it takes is one resume, and you'll have to come in to a Liberty Staffing branch nearest you to fill out our application, and have an interview with one of our recruiting professionals.
Ready to get started with an assembly position? Contact Liberty Staffing today! We can help you gain the perfect career.