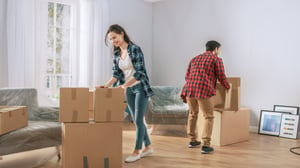 Relocating for a job is a big decision for most couples. Whether you're finally moving after doing a long-distance relationship for a while, or you'll be right alongside your spouse to support them for their first day at their new dream job, you likely have plenty of items on your relocation to-do list.
One of those tasks is probably finding yourself a new job in your new city. After all, your spouse has landed their dream job. Now it's your turn!
Looking for a job? Let Liberty Staffing connect you to the jobs you want. Apply today!
If thinking about the job hunt has you feeling a little nervous, you can relax. Liberty Staffing can help you find employment. We've rounded up these seven great tips to help you land your dream job.
1. Networking Never Goes Out of Style
The first thing you should do when you decide to relocate is to reach out to your network. Who do you know in the area? You might be surprised by some of the connections you already have.
Don't be afraid to ask colleagues, or other peers in your network, if they know people you should connect with.
You can also reach out through job associations, and professional associations. Don't forget about the power of social media either. Spruce up your LinkedIn, and reach out to your connections.
2. Connect with an Agency Like Liberty Staffing
As you expand your network, don't forget about the power of staffing agencies, like Liberty Staffing. We can relieve you of the stress that comes with job hunting.
Staffing agencies already have deep connections to employers in the areas we serve. Call on our recruiters to discover new jobs and new employers, as well as to connect with those who are hiring right now.
Liberty Staffing can help you find more opportunities faster than if you were to job search on your own.
3. Brush Up on the Local Job Market
You might think of Canada as one homogenous culture, but job markets and work expectations vary based on region. For example, working in Saskatchewan compared to Toronto can be a big culture shock.
This is another reason connecting with a local staffing agency could be a smart move. At Liberty Staffing, our local recruiters can help you adjust to your new role, and provide you insight into what the employers' expectations are.
5. Give Your Resume an Overhaul
Another step to take when you want to find a great job in your new city is giving your resume a good spring cleaning. You may have been meaning to spruce it up for a bit, but there's no better time than now.
If you want to transition to a new field, highlight relevant job experience in that area. If you're listing jobs that are more than 10 years old, it's time to modernize your resume.
6. Get Some Volunteer Experience
You may not land a job right away, but there are still steps you can take to build a meaningful career in your new city. If it's possible, try a volunteer position in your preferred industry.
A volunteer position is a great way to gain more relevant experience. It also helps you connect with others in your local industry. With more of the right connections, you'll soon discover more job opportunities.
7. Start Applying Before You Arrive
It might be difficult to know when to start applying to jobs, especially if your relocation date is still a little while away. If you know for certain when you'll be moving, you can start applying for jobs. Some employers may be willing to wait, especially if they feel you're an exceptional candidate.
By beginning the job hunt now, you might have a few interviews lined up by the time you arrive in town.
Talk to Us Today
Once you've moved to your new city, contact a Liberty Staffing branch location nearest you for an interview.
If you're not sure where to start looking for great jobs in your new city, get in touch with Liberty Staffing today. We can help you connect with more job opportunities, and find the right job sooner.