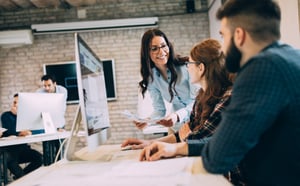 In today's ultra-competitive market, having the right people on your team is a game changer. That's why so many employers are putting emphasis on their staffing strategy.
What is the right staffing strategy? For many business owners, and HR hiring managers, adding temporary staffing to the mix is a smart move. Temporary staffing has plenty of advantages, including increased flexibility.
Liberty Staffing Services is a staffing agency which provides flexible staffing solutions, including: temporary, temp-to-perm, and permanent employees.
Download our whitepaper to see how we solve our clients' evolving staffing issues.
You might be less familiar with temp-to-perm staffing and the benefits it can offer your company. If you haven't considered adding temp-to-perm to your recruitment strategy, these benefits might have you rethinking your choice.
Temp-to-Perm Offers Even More Flexibility
One of the reasons temporary staffing is so popular is that it offers flexibility. As the market shifts, you know you have to stay on your toes. Your workforce has to expand and contract with changes in demand.
Those changes can happen with a moment's notice, which means you must be ready to move. Hiring temporary workers allows you to keep step with the ebb and flow of demand.
Temp-to-perm offers even more flexibility to the employer. Whereas temporary contracts end and must be renegotiated, temp-to-perm staffing allows the employee to seamlessly shift from temporary to permanent as you need them.
If you don't have permanent positions to fill, these contracts end much like temporary staffing. If you do require additional permanent employees, you already have the perfect candidates waiting in the wings.
An Evaluation Period for Employer and Employee Alike
Another advantage of the temp-to-perm model is that employers and employees both have a chance to evaluate the other.
Hiring is a gamble in some ways. Someone may look impressive on paper and they may perform great in an interview. Once they get onto the floor, though, you might see a whole new side of the story.
If you hire them as a temporary employee first, you can evaluate how they do in actual work situations. Are they adjusting well to your company culture? Do they actually have the skills they need to perform?
If so, you can bring them on as a permanent part of your team. If someone just isn't working out, you don't need to keep them on after the expiry date on their contract.
Employees get a chance to evaluate your company as well. They may have a better idea of whether they like the environment, or the work, after a couple of months. If they decide it's not for them, they can move on without running up a large turnover bill.
Reducing Bad Hires and Turnover
Since you have a better chance to evaluate employees before bringing them on permanently, you could also reduce the number of bad hires you make. While HR managers do their best to avoid this situation, everyone makes a hiring misstep now and again.
The extended evaluation period means you already know that the person you're hiring is a good fit. In turn, you're happier having them on the team for the foreseeable future, and they are happier with their job. They're also less likely to leave, which lowers turnover.
Since turnover can cost businesses a pretty penny, temp-to-perm could help you save and avoid plenty of hiring headaches.
Permanent Employees When You Need Them
Another advantage of the temp-to-perm model is how it could speed up your hiring process. You've already reviewed resumes and interviewed the temporary employees on your crew. When that permanent role opens up, you have a pool of verified candidates already in hand.
Start Building Your Team Now
As you can see, temp-to-perm staffing provides plenty of benefits for employers like you. Get a helping hand navigating the process by teaming up with Liberty Staffing, and find a better way to staff your business. Contact us today to get started.