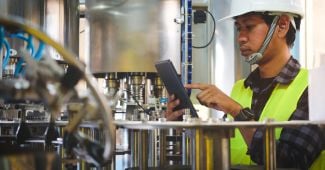 The leaders of industrial businesses have to work hard to stay on top of their staffing needs. It's a balancing act of trying to avoid understaffing and overstaffing – and that's especially challenging when there are seasonal ebbs and flows to production.
Every day, Liberty Staffing Services helps industrial companies (like yours) figure out the best ways to maintain a staff of the ideal size. Contact us to find out how we can help you too!
For many industrial companies, temporary workers are a valuable resource. You can tap into this resource during busy periods or when your regular staff is unavailable because of a medical leave of absence, parental leave, or other temporary absence.
Let's take a look at some industrial positions that are best suited for temporary staffing. Using temporary workers for these positions can provide workforce flexibility, reduce overhead costs, and strengthen your overall staffing strategy.
Assembly Line Worker
There are few jobs better suited for temporary workers than assembly line positions. The tasks associated with these positions are usually pretty simple and easy to learn. They are repetitive and temps can get up to speed quickly after some basic training.
As production ebbs and flows, you can quickly scale up or down the number of line workers without laying off your permanent staff. This is a great way to efficiently match your labour costs to the workload.
Warehouse Associate
Warehouses tend to see similar fluctuations as factories and other industrial facilities. They also have busy seasonal periods, which is when they may need to increase staffing to meet the changing workforce needs.
Temporary staff are useful for meeting warehouse labour needs that are constantly in flux! Temp team members can assist with shipping and receiving, loading/unloading, inventory tracking, and other duties that vary in demand from one part of the year to another.
Equipment Technicians
Temporary technicians can fill in the labour gaps when it comes to operating equipment like forklifts, conveyors, or CNC machines. These specialized positions require training and sometimes even licensing; you can tap into a pool of temporary workers who may have these credentials.
Temp technicians can also handle basic maintenance and keep equipment operating when things are especially busy.
Quality Assurance Inspector
Every successful manufacturer has a thorough quality assurance testing program. These inspectors play an essential role in your ability to produce high-quality products that consumers are happy with.
Inspecting finished products and performing QA checks is yet another role that is perfectly suited for temporary hires. Bringing on temporary workers allows companies like yours to maintain high-quality production even when your facility is at its busiest.
You don't want to overwork your QA team, which is one of the best reasons to bring in temporary employees to fill in the gaps.
Custodial Worker
Keeping your facility clean is important, no matter what kind of industry you're in. Understaffing leads to dirty facilities and unsafe working conditions.
The pool of temporary workers often includes custodial staff who otherwise might not have thought to apply at a warehouse. Hiring temporary custodial help gives your company the flexibility you need to keep your entire facility properly maintained.
Note: This is an especially great step when you need to conduct a deep cleaning of your facility. You can bring in extra staff during closures or low-traffic periods so that you can thoroughly clean and maintain your facility.
Administrative Assistant
Short term administrative assistants can be a big help in the office. Hiring temps is certainly preferable to hiring permanent assistants when you only need them for a short period, such as a big administrative project. That could include compiling or crafting new manuals, coordinating a plant relocation, or working with new employee onboarding.
Maintenance Technician
Many temporary workers have excellent maintenance skills and would be a great addition to your facility. Not only can they serve in day-to-day maintenance operations, but they can also come on board for scheduled maintenance events, including equipment overhaul, facility upgrades, and more.
They can take on lower-skill tasks like changing filters and fittings, performing routine maintenance on common equipment, and supporting higher-skilled maintenance tasks with general labour.
The Bottom Line: Temporary Staffing is a Great Addition to Your Industrial Operations
The bottom line is that by taking a strategic approach to using temporary workers in industrial settings, you gain an adaptable workforce to meet a wide variety of business needs! With temps covering these key roles, you can scale up or down quickly and fulfill your needs without getting bogged down in under or overstaffing problems.
Liberty Staffing Services works with Southern Ontario's employers to alleviate staffing challenges and make your facility run more smoothly than it ever has before!
Reach out to us with questions or to get started!