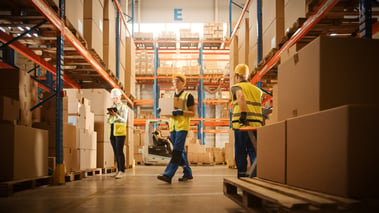 Hiring temporary workers is an excellent way to manage all of your staffing needs.
When you include temporary workers as part of a comprehensive staffing strategy, the benefits are plentiful. You save money on employment costs, solve issues related to understaffing, get to know your employees before offering them permanent positions, and scale up or scale down quickly as the market changes.
Liberty Staffing can find great candidates for your open positions, including those that are perfect for temporary workers. Contact us today to find out more about how we can fill those positions fast.
If you're not sure which positions are ideal for temporary staff, we can help! Here's a list of the best positions to fill with temporary workers.
1. Warehouse Positions
It takes a lot of people to run a warehouse, and many of those warehouse positions are a great fit for temporary staff.
Warehouses often need to scale up during busier seasons. Your busy season may depend on what industry you support, but the increase in pre-holiday inventory means many warehouses need to add more people to their teams–and quickly!
At the end of the season, your temporary team members' contracts expire, which allows you to downsize naturally without laying anyone off.
Temporary workers in your warehouse can make great general labourers, shipping and receiving specialists, packing associates, and more.
2. Manufacturing Positions
Like warehouse managers, manufacturing plant managers often need to hire a lot of people quickly to adapt to changes in the market.
For example, supply chain delays have caused many manufacturers to reduce the number of employees they have working for them. When a supply delay is resolved, it is important to be able to adapt quickly and hire new employees.
However, the last thing anyone wants to do is hire new people only to need to lay them off if there are more delays in the near future!
That's why so many manufacturing positions are a great fit for temporary employees. You get to quickly hire the people you need but set a predetermined end date for the contract. That way, everyone knows exactly what to expect!
Liberty Staffing - Helping Employers Find the Best Temporary Staff
Even if you don't operate a business in one of these three areas of warehousing, manufacturing, and retail, that doesn't mean you shouldn't consider temporary staffing solutions!
At Liberty Staffing, we pair great employers with great candidates. Our goal is to support our clients so that their businesses can run smoothly–and grow!
If you have questions about how temporary workers can help your business thrive, reach out to Liberty Staffing today! We're here to talk, share, and provide our expertise in this area. We're ready to help you!