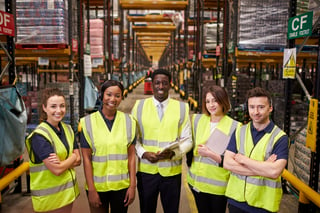 The warehouse industry is growing, and it offers so many opportunities for job seekers throughout Canada! Here in Ontario, there are great warehouse industry jobs available to people who know where to look–and what to look for.
Liberty Staffing can help you find warehouse work that meets your specific needs. Today we're taking a look at the variety of warehouse industry jobs that you can find in the warehouse industry.
If one of these looks interesting to you, don't hesitate to reach out to Liberty Staffing today so that we can help you gain one of these great jobs.
Benefits of Warehouse Work
Before we talk about the specific positions within the warehouse, let's take a look at the benefits of warehouse work. Warehouse work is dependable–workers are always needed, and most warehouses are consistently hiring. There are times when they are hiring even more than usual, like when there is a staffing shortage or they are gearing up for a busy holiday season.
Warehouse work pays well, and there are several schedules available to meet different needs. Looking for night work? Warehouses often provide night shift schedules to workers. Looking for something part time and flexible? There's a good chance that warehouses offer that too!
Need a temporary position to bridge the gap between school semesters or other commitments? Warehouses often hire temporary workers, who only come on board for a few weeks or months before moving on or getting hired on permanently.
5 Warehouse Positions to Explore
There are more than just five positions in a warehouse, but these are the positions we often find to be perfect for job seekers.
1. Shipping/Receiving Specialist
If you already have warehouse experience, a shipping and receiving specialist position could be the perfect next step for you. You will oversee the receipt of shipments and prep shipments to go out. Picking orders, packing orders, checking inventory, quality control management, and tracking orders–these are the responsibilities of the shipping and receiving department.
If you're new to warehouse work, set your aim on this job as a "next step" after your entry-level work.
2. General Labourer
A general labourer is a great position for people who are good at working with their hands, solving a wide variety of problems, and supporting the overall day-to-day operations of the warehouse facility.
As a general labourer, one day will rarely look the same as another. You'll tackle janitorial tasks, maintenance work, moving shipments, cleaning, and small repairs. This is an essential job in the warehouse, but it is also a great place to get your start.
3. Warehouse Associate
Here is another great entry-level position! You can usually get a job as a warehouse associate even if you haven't worked in warehouses before, or if you are applying for your first-ever job.
That said, these aren't only available to new workers. Experienced warehouse associates are also needed for these important jobs.
A warehouse associate, similar to a general labourer, can be assigned a variety of tasks. Some common assignments: picking orders, packing orders, loading shipments, and taking inventory.
4. Warehouse Manager
Experienced warehouse staff who are looking for a management position may be perfect for the warehouse manager position.
If you are currently working in a warehouse but have found yourself feeling like there are not a lot of opportunities for advancement with your current employer, we can help you find a management position elsewhere–even as you continue to work your current job.
Warehouse managers are responsible for overseeing pretty much every aspect of running a warehouse: shipping and receiving, inventory management, operating motor vehicles (including forklifts), and supervising workers.
5. Packaging Associate
Lastly, but certainly not least, you can obtain a great job as a packing associate within a warehouse. The main responsibilities for this job include packaging items to be shipped safely to other warehouse facilities, or to consumer's homes.
Depending on what the company sells, you could be packaging food, small items, large items, clothing, etc. Packaging associates could be light lifting job, or a heavy lifting job (usually lifting within a team), depending on what items you're working with.
Packaging work is a great job to get as someone who is entering the workforce for the first time.
Looking for Warehouse Work? We're Ready to Help!
Liberty Staffing Services has been pairing excellent workers with great companies throughout Ontario for more than twenty years. This work is about much more than just introducing workers and employers to each other. It's about being the experts in recognizing the skills and experiences of job applicants with the precise needs and company culture of employers.
Are you ready to find a warehouse job that meets your needs? Because we are ready to help you find one! Contact Liberty Staffing today to take the next (or even first) step in your warehousing career!