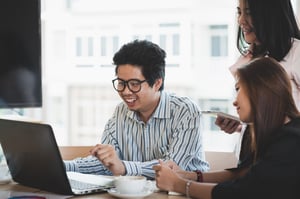 You may have heard the old saying, "If you love someone, let them go." Unfortunately, many employers do have to let go of the seasonal employees they love at the end of the summer. Contracts come to an end, and employees have to go back to school. Even though these seasonal employees did great work for the summer, it's time to part ways.
Chances are you'll be hiring more seasonal employees again next year, which may leave you wondering if there's any way to make sure those stellar employees come back again.
Download our whitepaper to see how we solve our clients' evolving staffing issues.
At Liberty Staffing, we would like to provide you with some tips to help ensure your seasonal employees will return next summer.
Establish a Professional Connection with the Employee
If a seasonal employee is making great contributions to your team, you should reach out to them. Let them know how you feel about their work ethic, and what they're bringing to the team.
While you may not necessarily want to make promises, you can indicate that you'd be happy to see this person's application again, whether for another seasonal role next summer, or even for a permanent position with your business.
Creating a welcoming atmosphere can help the employee feel like a true part of the team. In turn, they'll likely be willing to consider returning to your company when the opportunity arises.
Communicate Openly with All Partners
If you want to see a particular seasonal employee back again, don't be afraid to say so. As we mentioned, telling the employee you'd consider them for another seasonal or permanent position can encourage them to apply again.
If your seasonal employee came to you through a recruitment agency like Liberty Staffing, you should also be sure to let the team know. Nothing makes us happier than hearing that our clients loved their seasonal employees so much they want to hire them back in the future.
It also helps us provide you with candidates to fill open seasonal positions for your future recruitment needs. If we already have a list of names at-the-ready, we can reach out to these candidates right away. The hiring process will become faster, and it also increases the chance that you, and the employee alike, will be satisfied with the placement.
The earlier you let us know you'd be interested in hiring someone back on next year, the sooner we can get in touch with the employee! There's no need for us to wait until next spring or summer to reach out. Liberty Staffing can reach out to the employee anytime throughout the year, on your behalf.
Feedback for Better Future Hires
If you teamed up with Liberty Staffing to find great seasonal employees this summer, a continued partnership is the best way to ensure your staffing needs are always met. If you know you'll need to hire seasonal employees again soon, or if you're thinking about expanding your permanent team, we can continue to help.
By communicating to us which of your seasonal employees truly stood out, we can refine our searches too. We can use your feedback to compare standout seasonal employees to other, new employees that have recently applied with our agency.
Find Your Next Great Hire
If you're not already partnered with us, there's no reason to wait. Contact us and we can help you get started today. Whether it's seasonal hiring, temporary employees, or temp-to-perm, we have the resources you need to make every hire a great one.