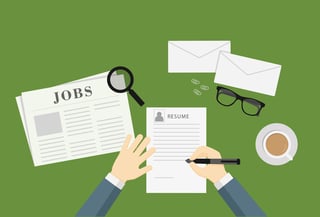 Let's face it - not all of us are professional writers, but everyone needs to write a resume at some point in their life. If you are looking for work, you will probably want to brush up on your resume writing skills to ensure that you land an interview. After all, a resume is usually the first point of contact between job seeker and employer. Liberty Staffing would like to provide you with the top five resume writing tips. Make sure that you display these within your resume, before you send it out to an employer.
1. Keep the Format Clear and Concise
An employer will not take the time to decipher your resume, especially if the formatting is unclear and confusing. That's why it's important to present the information on your resume in chronological order, with your current or most recent work experience at the top.
2. Use Skilled Keywords
Stay away from using generalized terms. Really focus and hone in on the job that you are applying for, and include any skills that you think would be applicable to the role. So, for example, if you have experience using a specific type of software, be sure to include that in your resume. Or, if you work strongly in a team setting, note that as well, especially if the skill is considered a requirement in the job advertisement. This will show the hiring manager that you are qualified for the position. Your skilled keywords will surely pop and catch the employer's attention.
3. Watch Out for Grammatical Errors
A resume is only as good as it's spelling. If your resume is filled with grammatical errors and spelling mistakes, you may as well not even send it. More often than not, an employer will toss your resume out with the first spelling mistake that they see. To avoid this, ask a friend or family member to proofread your resume before you apply to any job opportunity. Visit a career centre, or your local library, and ask for resume writing assistance.
4. Keep It Within Two Pages
Hiring managers receive piles upon piles of resumes. In most cases, they often skim resumes to find the best candidates for the position quickly. So it's imperative that your curriculum vitae is no longer than two pages in length. If longer, your resume will not be considered for viewing. Remember to keep things short and sweet.
5. Customize Your Resume for Each Position
While it's definitely easier, and less time-consuming, to send out the same resume for each position that you apply for, it's probably not your best bet to do so. Be sure to market your resume towards the position that you are trying to obtain. Treat the job advertisement like an essay question, and be sure to answer the question within your resume. After all, no job is the same, so you shouldn't send out the same resume for different positions. Ensure that you customize your resume every time before you send it out.
Need more resume writing tips? Contact Liberty Staffing Services today!