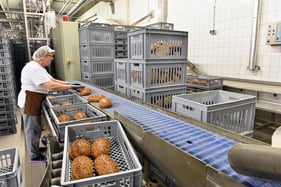 Are you looking for a great job in Guelph, Ontario? Liberty Staffing Services is currently hiring Bakery Production Workers on behalf of our client.
Liberty Staffing is an independent staffing agency with multiple locations across Ontario. First established in 1999, Liberty Staffing has been providing job seekers with meaningful employment for over 20 years. We connect great people with great jobs!
Here's some more information about the Bakery Production Worker jobs that we have available.
Shifts:
Day, afternoon and night shifts available.
Pay:
$18.46/hour
Requirements:
- Must have steel toed boots/shoes.
- Previous food processing experience is an asset.
Apply Today!
Apply to this great job opportunity today! We are available in-office by appointment only due to COVID restrictions. We are available by email or phone. Send Liberty Staffing Services your resume and call us. You can also start our application online. We look forward to hearing from you!
Email: libertyguelph@gmail.com
Call: (519) 823-9697