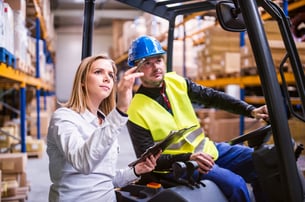 Are you looking for a great Forklift job opportunity in Brampton, Ontario? Liberty Staffing is currently hiring for our client.
First established in 1999, Liberty Staffing Services is an independent staffing agency with multiple branch locations across Ontario. We've been helping job seekers find work for over 20 years. There is no fee to use our services as a job seeker.
If you're looking for work, apply with us today! Here's more information about the Forklift jobs that we have available.
Shift
Monday to Friday from 8am to 5pm or 1pm to 10pm.
This is a full time position.
Pay Rate
$19/hour
Requirements
- Must have a valid license for: dockstocker (stand-up counterbalance), reach truck, and walkie (powered pallet truck).
- Working in a cold facility.
- Must have green triangle safety shoes.
Apply Today!
Interested in applying to this great role? Apply with Liberty Staffing today! Please call or email to apply, as our office is temporarily closed due to COVID restrictions. We are available by phone/email only.
Email an updated resume to: bramptonliberty@gmail.com
Call: (905) 799-8586
If you've never registered with Liberty Staffing before, you can also start our online application process here: www.libertystaffing.ca/apply-online