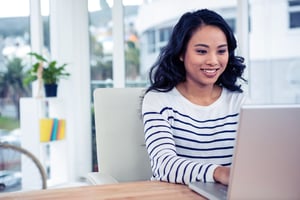 September is right around the corner, which means that students are heading back to school. If you're a student, you may be considering quitting your summer job now or in a couple of weeks, before you hit the books.
There are many benefits of working part time during the school year. If you've found full time employment through Liberty Staffing this summer, let us know if you would like to continue to work part time at your current place of employment. We can probably make arrangements for you. Most employers/companies don't want to have to take the time to hire and train a new person, when they can keep you on board.
Here's why you should reconsider and continue working at your current place of employment during the school year.
Extra Money
Let's face it, college and university is expensive in Ontario. You have to pay for books, classes, meals, transportation, and rent. You don't want to have to stress about money or restrict your lifestyle because of financial issues.
Having extra money from working part time doesn't hurt. There will be no need to stress, and you can focus solely on your studies.
Time Management Skills
There are many great skills you can obtain through part time work. Keeping a part time job while you're in school involves having great time management skills. You have to be organized, and keep on schedule with school assignments, projects, and work.
Time management skills are perfect to add to your resume. Even if your part time job does not have any correlation to what you are studying in school, you will be showing future employers that you are hardworking, adaptable, and have great time management skills.
Not only that, but students who work part time are reportedly more successful in their studies in comparison to students who don't work, because of your great time management skills.
Full Time Work During School Breaks/After Graduation
For students who have reading week or summer break, you can potentially work full time. If you want to make more money with full time hours during this time, let Liberty Staffing know.
Or, once you have graduated from school, we can most likely set you up with full time employment at the same company, or elsewhere (if you're looking for a career change).
Have you decided to stay on board and work part time during the school year? Let us know by contacting us. We would be happy to look into part time arrangements for you.