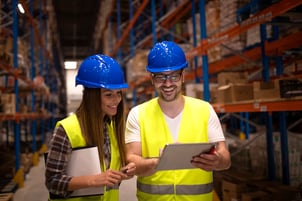 If you find yourself looking for work as a General Labourer, now is a great time to find the perfect gig. As we move into spring of 2021, now is a good time to consider if a general labour job may be a good fit for you.
Liberty Staffing Services offers a lot of great general labour jobs throughout Ontario. We mainly offer full time general labour roles, in temporary, temporary-to-permanent, or permanent opportunities.
There are many great reasons to accept a general labour job with Liberty Staffing. For example, general labour roles are often all-encompassing, which means that you'll learn a lot about a variety of different things. Lots of companies need General Labourers for their business to succeed, which gives you many options in terms of employment opportunities.
Looking for a job? Let Liberty Staffing connect you to the jobs you want. Apply today!
General labour is a term that originated in the manufacturing sector, and is used to describe the physical labour that employees do. Generally, the training to become a General Labourer is straightforward, and often on-the-job. Today, it isn't just a manufacturing industry job, as General Labourers work in construction, landscaping, cleaning services, and more.
Job Responsibilities of a General Labourer
The job responsibilities of a General Labourer depends on a few factors: the industry, the company, and the needs of your employer.
Labourers are usually assigned non-complex jobs that are easily learned. If a General Labourer's job requires special training or instruction, the employer typically does that on-site. Some of the common responsibilities of a General Labourer are to assist specialized contractors (including Masons, Carpenters, and Engineers) to operate power tools and heavy equipment, set up worksites, and drive forklifts. They may clean, paint, and repair things for their employer, including at construction sites, factories, and warehouses.
Benefits of General Labour Work
General labour positions are popular among workers for a few key reasons. First, the jobs don't require a lot of specialized training. That means that workers without degrees or certifications are often able to successfully enter the workforce as a General Labourer.
Next, there are great opportunities to advance. Working as a General Labourer gives you a lot of experience with physical tasks, and that provides a great foundation for future jobs, or positions within the same company.
Lots of people get their start as a General Labourer and then move up the ladder as they get more experience. It is also such a great way to discover a talent or specialty. Starting as a General Labourer allows people to find out if they're great at something they otherwise haven't tried.
A significant part of finding work as a General Labourer is making sure that you have the correct education, experience, and skills to do the job.
Make Sure You Have the Essential Skills and Requirements
The essential skills of a labourer are physical strength, good communication skills, technical proficiency with the required tools for the job, and great teamwork skills. Having a high school diploma or GED is a standard requirement for most employers.
Want to Get Your Foot in the Door? Try Temporary Work
Temporary workers are popular with a lot of employers because they quickly fill vacancies, alleviate the stress of overwhelmed employees, provide a workforce solution during times of great growth, and help to reduce overhead costs.
Additionally, temporary workers allow hiring managers to test out the compatibility of a worker with the role and the rest of the team.
Do you find yourself looking forward to what comes next with this company? If so, then you are in the perfect position to apply for a permanent job! They know you, you know them, and your chances look much better.
And what if you've realized that the company is not a good match for you? You can leave at the end of your temporary assignment and look for your next job without creating conflict. Your resume looks great because you worked the length of your contract without complaint.
Reach Out to a Qualified Staffing Agency
Working with a staffing agency can open so many doors for you. Staffing agencies, like Liberty Staffing, know the employers in the area and what they're looking for. Since 1999, we have connected countless quality candidates with great local employers. We will work with you and your requirements to find the perfect general labour role for you!
Apply With Us Today!
Ready to get that started as a General Labourer? Contact us today! We can't wait to hear from you! Liberty Staffing can get you on the path to a new professional career.