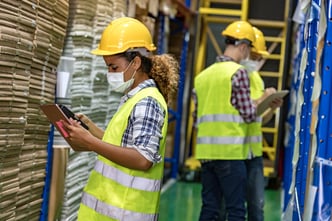 Are you a job seeker, currently looking for employment? In today's job market, it's a good idea to be flexible, as the COVID-19 pandemic is an unprecedented time. Due to COVID and lockdowns, unfortunately many professionals have lost their job.
This is just one of the reasons why you should consider applying, and accepting, a temporary job. Often, job seekers get scared off by the thought of a "temporary" job. Temporary work is often viewed as a last resort, dead-end job, when in fact it's the opposite.
At Liberty Staffing Services, we offer a variety of temporary work. From entry-level office roles, to general labour positions, we can help you find the perfect temporary job. Here's why you should consider applying to a temporary job opportunity.
Gain Experience
Temporary jobs are a great way to gain experience in the professional world, and in the field you're looking to get into. Most temporary roles require minimal experience. This makes temporary work great for job seekers that are entering the workforce for the first time, new graduates, and professionals who are reentering the workforce after time spent away.
Earn Money
While most professionals seek out permanent work because they need a steady, predictable paycheque, permanent work is not always available. The job market is tough right now. Over 200, 000 jobs were lost in April 2021 in Canada due to the COVID-19 pandemic. Most of these jobs were full time roles.
Therefore, permanent work might not be an option right now. Unfortunately there's no way of knowing when the pandemic will be over, and when more permanent work will become available again.
Why not accept a temporary job? You can earn money while you wait for a permanent role to become available.
There's No Shortage of Temporary Jobs
If one of your concerns about temporary work is that the job contract will end after a couple of weeks, or months, don't fret about having to find a new job. While some temporary positions are short term, some are ongoing. And there is no shortage of temporary jobs available.
Many employers seek temporary workers because they have high production demands seasonally, and need more hands on deck during certain times of the year. Other employers need temporary staff year-round to provide relief to their permanent employees. Whatever the case may be, you won't need to worry about finding a new job if your temporary position ends. You also won't have large time gaps between jobs on your resume.
Could Become a Permanent Job
Most temporary jobs have the potential to become permanent. Liberty Staffing offers many "temporary to permanent" roles. This means that you'll have the ability to try out a temporary position, and if you enjoy the job and work hard, you'll have the potential to be hired on permanently with the company.
The key is to work hard, arrive on time for your shifts, and show the employer that you are the perfect fit for the role. It's in an employer's best interest to hire you on rather than to recruit and onboard a new employee.
Apply to Liberty Staffing Today!
Ready to apply to a great temporary job? Apply with us today! Contact your nearest branch for more information. We connect great people with great jobs!