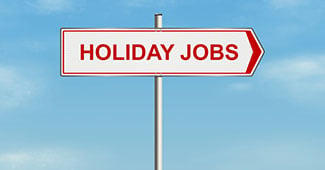 The holiday season is an exciting time for seeing family and friends, carefully picking out gifts for your loved ones, and taking part in special annual traditions. For hiring managers and business owners, however, stress related to staffing often accompanies the holidays.
Don't let the holiday season get here before you're ready. Reach out to Liberty Staffing today to find out how you can recruit and retain the best holiday staff possible!
What else can you do to get ahead of the holiday season? This Holiday Hiring Guide will take you through the most important actions you can take now, so that you don't fall behind later.
Avoid Staffing Shortages Year-Round
If you go into the holidays with a staffing shortage, you will feel far more pressure than if you have been able to consistently staff your company year-round.
Temporary staffing issues cause a lot of headaches! They can cause reduced productivity alongside higher worker stress. Worker stress, of course, leads to higher employee turnover. What this means, essentially, is that when you don't have enough workers, you end up losing more workers.
Nobody wants to encounter this problem during the holidays, so it is important to avoid falling into a hiring shortage. Anything you can do to keep your business fully staffed during the year will help you avoid problems during the holidays.
Advertise Openings Early
When you work with a staffing agency, they are able to advertise your open positions early in the hiring season. That way, when people start looking for holiday work, they see your listings before your competitors'.
After all, you're not the only company hiring seasonal workers. If there is a shortage of workers in your area, it is especially important to get your information out there as early as possible.
Adjust Your Interview Questions
Crafting good interview questions is about more than just collecting information from your potential new hires. It is also about getting to know the person who wants to join your team.
During the holiday season, you can adapt your interview questions to be relevant to temporary staff. For example, you can ask the candidates why they are interested in temporary work during the holidays. You should also confirm that they're okay with the unique demands of holiday shifts. Are they comfortable with the demands of working a temporary job during the holidays?
Consider Providing a Hiring Incentive to New Staff
Hiring incentives are gaining popularity. If your potential worker pool is accustomed to being met with a hiring incentive, it is probably a good idea to think about what you can offer.
In fact, Liberty Staffing Services is currently offering a great $150 Signing Bonus. When a job seeker registers with us, and they work 150 hours, they will gain an extra $150 to their pay. This is just one of many hiring incentives that we offer as a staffing agency.
Don't Forget about Holiday Pay Requirements
Some industries and areas require employers to provide holiday pay for their workers, in addition to the time and a half premium for the day's work. Don't try to find loopholes to avoid paying your temporary workers their holiday pay; follow all of the local and federal laws in order to avoid costly fines and penalties. Withholding pay also damages worker morale and hurts your reputation in the community. The last thing you want to do is to become known for unfair hiring practices.
All employees, including temporary workers, are entitled to receive holiday pay if they have worked their scheduled shifts before and after statutory holidays.
Get Ready to Hit the Ground Running
The holiday season is incredibly busy for workplaces across countless industries. Whether you are hiring for manufacturing, the warehouse industry, or a busy office, you need great workers during the holidays.
If the prospect of finding a great team in time for the holiday season is intimidating, Liberty Staffing is here to help! We find great workers for our clients - workers who are looking for new opportunities like holiday shifts and temporary employment.
Contact us today to get started! We want to see you have your most successful holiday season to date, and that starts by connecting you with the best possible team.