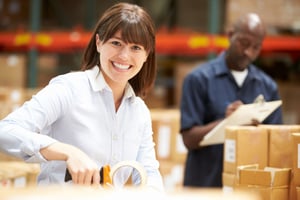 As fall draws nearer, many hiring managers are thinking about the hiring rush and the upcoming holiday season. Warehouses in particular need to be well staffed so they can cope with the uptick in demand.
To that end, you may be wondering about hiring for several warehouse roles. One of them could be Packagers. You want to have these employees trained and ready before the holiday rush hits, so it makes sense to start recruiting now.
Download our whitepaper to see how we solve our clients' evolving staffing issues
You might also need to fill roles that are left open by departing seasonal staff. Depending on how many people you think you need to hire on, you might have a busy hiring season ahead. Working with Liberty Staffing could make it less stressful for you. Here's how.
Leverage Our Network to Find Packagers
Whenever you want to hire for your business, you want to be sure you're hiring the right people. If you're not receiving the quality of applications when you post to the big job boards, it's time to expand your network.
Working with us is one of the easiest ways to do that. We already have a wide network of candidates in our recruiting database that are ready to work.
Liberty Staffing also posts advertisements on various sites and media publications, which helps you reach more of the right people.
Get Help with Your Job Descriptions
Sometimes, your job description may be the reason you're having trouble finding the most talented Packagers for your warehouse operations.
Our recruiters have looked at thousands of job postings, so we can tell you what works and what doesn't. We could even help you find keywords to maximize the draw of your job posting.
Make Screening a Breeze
Expanding your network to reach more people may make hiring managers nervous. After all, if more people see the ad, won't more candidates apply?
If you're already receiving lots of applications for Packager positions within your company, you might wonder if getting even more will slow you down.
If you work with us, you'll be able to move even faster. We use the latest recruiting software to sort through applications in short order. You'll know you're getting the absolute best candidates to interview when we assist you with your screening process.
Screening helps you keep the number of interviews to a minimum as well. That means you will be able to spend less time on the hiring process and more time getting your new hires settled in their warehouse roles.
Let Us Interview for You
If you expect you'll need to conduct more than one round of interviews, we can lend a hand in streamlining the process. We can conduct initial interviews with candidates to help you narrow down the list even more.
This is especially helpful when your hiring team is busy, and when key personnel's away on vacation. Conducting interviews sooner could shorten up the time from posting to hire.
Go Temporary to Permanent
Working with us could also help you hire on temporary and seasonal staff, so you can keep the best Packagers on staff at your warehouse. You could hire seasonally to start, then hire the best performers on to fill permanent roles as they become available.
Doing so can aid you in not just locating the right people, but keeping them too. In turn, you won't need to find as many employees the next time you need to hire.
Get Started Now
Get a jump on hiring Packagers, and other key roles for your warehouse, by partnering with Liberty Staffing today! Contact us. There's no need to wait until the fall hiring season to start finding the best people for your business.