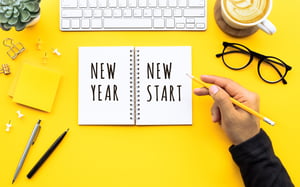 2020 is finally here. It's a fresh start. With the changeover of the year, you may even have a new outlook on life. The new year is a great time to find a new job, or change careers.
Have you made any resolutions for 2020? While resolutions are great, a lot of people make resolutions that are unrealistic. Gaining a new job, or changing careers, is quite attainable, especially if you partner with a staffing agency to help you find employment.
If one of your new year's resolutions is to find a new job, apply with Liberty Staffing today! We have lots of great career opportunities available.
About Our Staffing Agency
Liberty Staffing Services is an independent staffing agency with 9 branch locations across Ontario. We offer general labour, warehouse, and office jobs in temporary, temporary to permanent, and permanent opportunities. We take the time to get to know you during the interview process, to ensure that we find you the job of your dreams.
Our recruiters have years of experience. Liberty Staffing has been in business for 20 years.
Benefits of Applying with Liberty Staffing
The great thing about our agency is that we do not have a binding contract, which means that you can apply to multiple agencies while you are registered with us. We want you to find work as quickly as possible. You can increase your chances of gaining employment by applying to multiple agencies at one time.
Your hard earned money will be in your hands quickly. We pay on a weekly basis, by direct deposit or cheque.
Liberty Staffing takes the health and safety of all assignment employees seriously. Your well being is our number one priority. We are a reputable agency which abides by all Ontario Ministry of Labour laws.
We truly care about our associates. Liberty Staffing treats all associates with respect. We have your best interest's at heart.
Our agency offers a great $100 referral bonus program! If you register with us, and you know someone who is looking for work, ask them to come in and apply with us as well. If the referred individual works a minimum of 200 hours with us, you will be rewarded $100 for your referral.
Apply Today!
Ready to apply with us? Start our online application today, and contact a Liberty Staffing branch location nearest you to schedule an interview.
Liberty Staffing Services connects great people with great jobs!