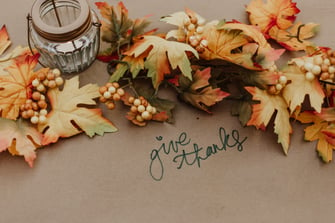 Liberty Staffing Services is an independent staffing agency with multiple branch locations across Ontario. First established in 1999, we've been helping businesses obtain qualified talent, and helping people find work for over 20 years. We connect great people with great jobs!
This year, Thanksgiving falls on Monday October 11, 2021. Please note that Liberty Staffing Services will be closed on Monday October 11 in recognition of Thanksgiving. If you need assistance during this time, please reach out to us by voicemail or email, and we will get back to you. We will reopen for business on Tuesday October12 at 8am.
This Thanksgiving, we have a lot to be thankful for. We would like to take some time and say thank you to our employees, clients, and healthcare workers.
Thank You
We would like to wish our employees, clients, and healthcare workers a happy Thanksgiving. 2020 and 2021 have been difficult and unprecedented years. Your hard work and dedication have not gone unnoticed. While we are still in the middle of this pandemic, we appreciate all that you have done.
To Our Employees
Thank you for choosing our staffing agency, and for working with us! Thank you for showing up everyday and working so hard. Whether you're working with us in a general labour, warehouse, industrial, or office capacity, we needed your services and abilities more than ever these past few months. We appreciate you!
Also, thank you for continuing to work safely during the COVID-19 pandemic. Your health is our number one priority.
To Our Clients
Firstly, thank you for partnering with Liberty Staffing for your temporary and permanent staffing needs. COVID has brought new staffing challenges to many businesses. We know you have a lot on your plate right now, and we appreciate your trust in our ability to handle the recruitment process for you.
Thank you for working with us in following health and safety guidelines. Thank you for putting the use of face masks/shields, hand sanitizing, a physical distancing in place at your facility. We know that you understand the importance of keeping employees safe and healthy during this challenging time.
To Ontario Healthcare Workers
Thank you to our healthcare workers. We are thankful for your dedication, hard work, and passion. We are thankful for you, and for helping us stay healthy during this pandemic.
Stay healthy, everyone. Happy Thanksgiving!