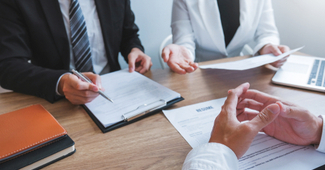 When interviewing candidates to fill an opening in your organization for an Administrative Assistant, there are all kinds of considerations to ponder as you search for the right person. You want to find someone who works well with your existing team, someone who is hardworking and dedicated, someone who is qualified for the position, someone you enjoy working with, and someone who will elevate your organization and take your operations to the next level.
Why is your interview so important? Because the most important person in your organization isn't who you think; it's your assistant who keeps things running day in and day out.
Finding the right person to join your team as an Administrative Assistant is an important task. The interview process can be a challenging thing, whether it's online or in-person. To see how Liberty Staffing can help you locate a great team member, contact our team at a branch nearest you. Here are the questions you need to ask to select the best candidate.
1. Ask About Their Tech Skills
"How would you describe your computer skills and capabilities with technology? What software programs have you used to enhance your organizational and operational skills?"
With this question, you can better understand a candidate's hard skills and technological proficiency. You want them to be familiar with a range of project management systems, platforms, and communication tools. An exceptional candidate will be well-versed in many solutions, but will also be ready to master new tools as well. You don't want to find out what your Administrative Assistant's tech capabilities are during the onboarding process. The interview is the time to ask.
2. How Would They Deal with Challenging Executives?
"How would you set up a meeting with an infamously hard-to-schedule client, customer, or executive?"
Your Administrative Assistant should be the secret sauce to a smooth, efficient, productive office. Administrative and Executive Assistants need the soft skills necessary to make difficult things happen every day, and the right hire can look at a problem from all angles, be creative and professional, and try many strategies until they find success.
3. How Would They Handle Confidentiality?
"What if a top-level team member asked you about the contents of a confidential report?"
The business world can be a tricky place, and you need to know that you can trust your Administrative Assistant with anything. Whether you hire someone to work in-person, or you plan to hire a virtual Administrative Assistant, you need to know they understand the boundaries of confidentiality. Administrative Assistants have access to confidential and sensitive information, and a strong candidate will know how to handle confidentiality properly and professionally.
4. How Do They Manage a Full Workload?
"How did you handle a prior situation where you were asked to do too much? How did you handle it?"
Administrative Assistants are busy all the time! A winning candidate will be there for the organization when you need them most during particularly busy or stressful times, but will also not be afraid to share personal boundaries and suggest compromises or alternatives. You want to find someone who will be dedicated to their work but will also take care of their personal well-being.
5. What Do They Think Makes a Good Administrative Assistant?
"What three qualities should a great Administrative Assistant possess?"
Not only does this tell you what kind of an Administrative Assistant your candidate would be, but this question also tells you what they value. If they are self-aware, it will also tell you what their strengths are and what aspects of the job they feel to be the most important. Hopefully, you've been clear enough in the wording of the job description that your expectations are easy to understand, but it's still a good idea to ask. A viable candidate will align with your company and take direction well.
6. How Do They Manage Difficult Situations?
"Tell me about a time when you had to reschedule a busy day because of an unexpected circumstance."
Not every day in your organization will be smooth sailing—although that would be wonderful. Your Administrative Assistant should be adaptable, flexible, and cool in the face of unforeseen challenges and less-than-ideal circumstances, and enjoy problem solving and restoring order amidst the chaos.
7. Ask How They Can Advocate for You
"In your previous job, what is an example of a time where you said no to a request on your supervisor's behalf."
Your Administrative Assistant is there to support you because there aren't enough hours in the day to tackle things on your own. As such, sometimes they need to be comfortable having difficult conversations and do so with tact, poise, and respect. A spectacular candidate will also demonstrate that they understand the reason behind the request and offer the asker a viable alternative.
8. What Sets Them Apart?
"What makes you the best-suited candidate for this position?"
Every candidate is unique, and there may be a one-of-a-kind qualification or characteristic that might never come up in a traditional interview. By asking this question, you'll learn your candidate's priorities and discover something new about them that may seal the deal.
Get Support From Liberty Staffing
As an experienced staffing firm, we've seen and heard countless interviews and reviewed thousands of candidates. From helping manufacturing centers maintain high production levels by providing qualified staff, to assisting companies looking for temporary staff to keep their recruitment costs low, we know how to get to the heart of what makes your company tick.
To learn more about how we can help you find the right Administrative Assistant for your company, connect with our team today!