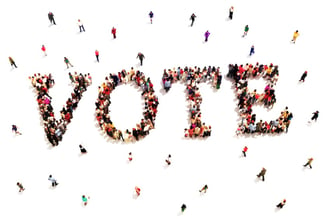 The Stratford Gazette is hosting a Readers' Choice contest. This is your chance to vote for your favourite businesses in Stratford, Ontario. By voting in the contest, you could be eligible to receive a $50, $100, or $150 gift certificate, sponsored by the newspaper. Terms and conditions apply.
Liberty Staffing Services is seeking your vote in the Stratford Gazette contest. If you are an applicant, assignment employee, or client of Liberty Staffing's Stratford branch, and if you have enjoyed your experience working with us, we encourage you to vote for our business.
Liberty Staffing opened in Stratford in 2003. We staff office, warehouse, and industrial businesses in temporary, temporary to permanent, and permanent opportunities. Liberty Staffing Services connects great people with great jobs!
Voting is simple and quick to complete. To vote successfully, please follow these 5 steps:
Step 1
Enter the contest here.
Step 2
Fill in your personal contact information and agree to the rules and regulations of the contest.
Step 3
Click the "Next" button at the bottom of the page until you reach page 4 of the contest, titled "Personal Services".
Step 4
Once you reach page 4, scroll down to number 80 for "Employment Services". Under this category, please type in "Liberty Staffing Services".
Step 5
Scroll down and click the "Next" button until you hit page 5 of the contest. Click "Done" once you have completed the survey.
Deadline to vote is February 1, 2016.
Thank you for voting for Liberty Staffing Services! We appreciate your support.